TravelKid Box car organizer box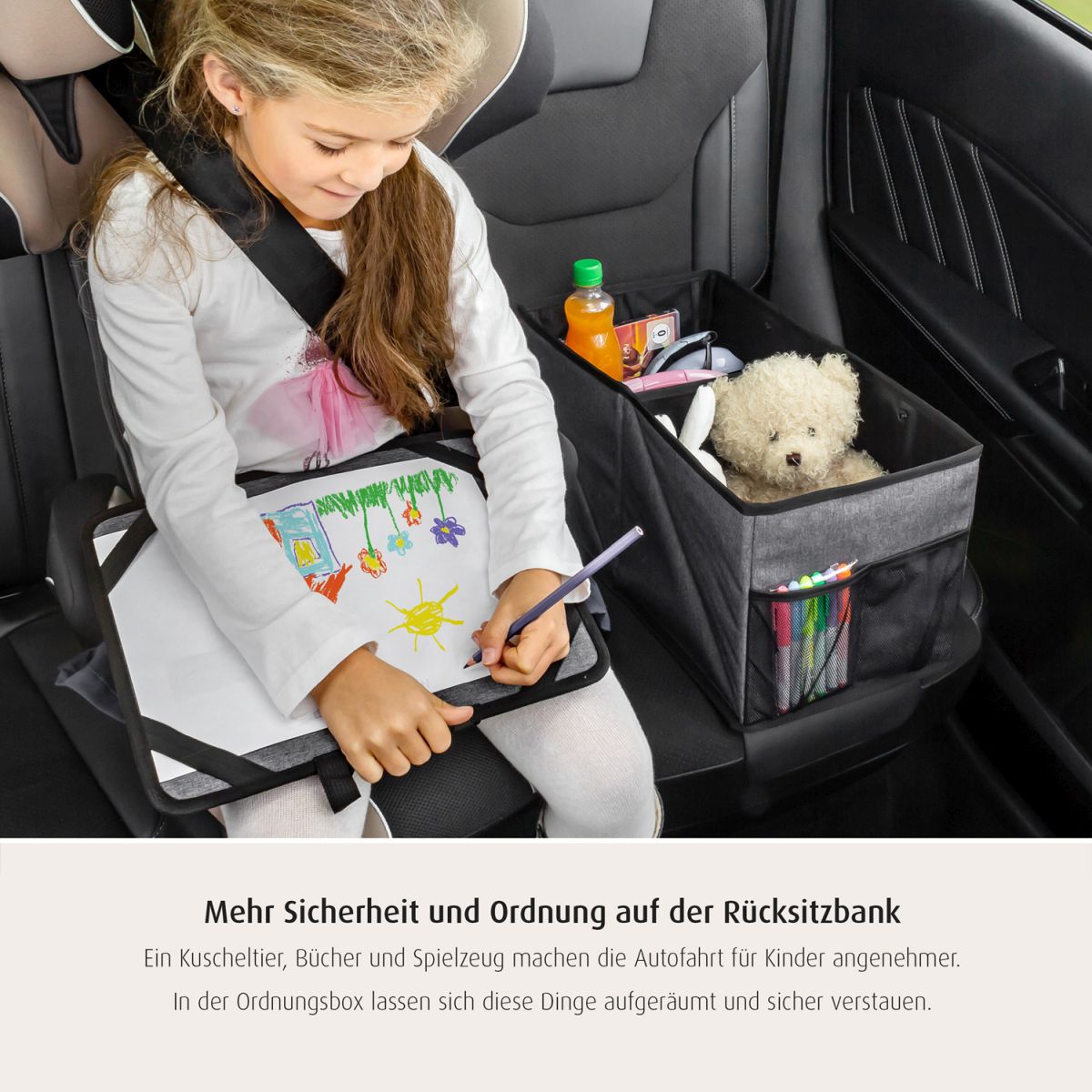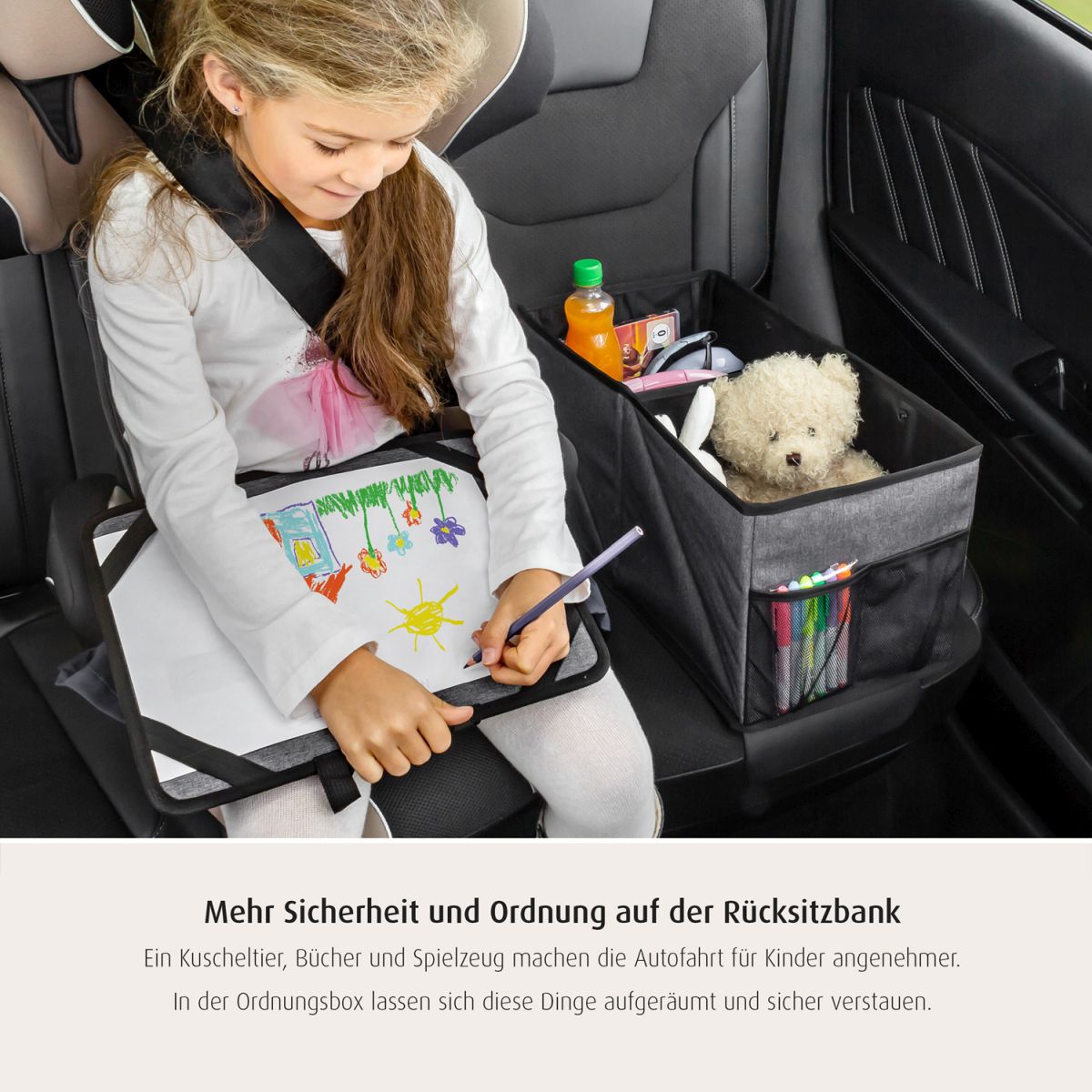 Available, delivery time 1-3 days
practical for keeping toys, books, drinks, etc.
anti-slip bottom for better grip
very secure thanks to its cover and additional belt system for attaching to the seat

TravelKid Box
Car organizer box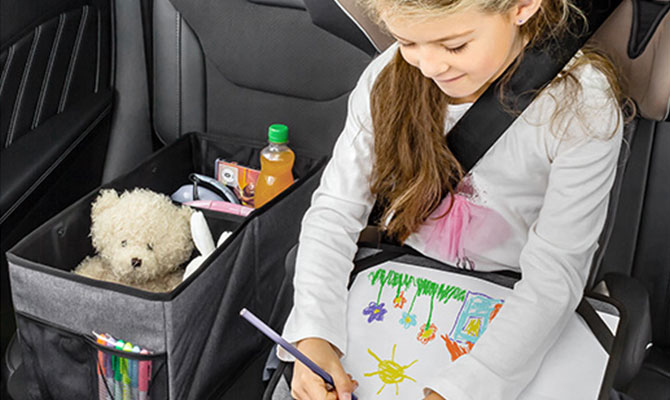 More safety and tidiness on the back seat
Long car journeys can sometimes be really stressful for parents and children. Sitting still for a long time and the monotony of the landscapes rolling by mean that your children quickly get bored. They do not want to sit still any longer, but instead want to be kept occupied. Cuddly toys, books and games make car journeys more pleasant for children.
In the TravelKid car organizer box, you can safely store all the things that keep your child happy during car journeys.
The organizer box is the storage space miracle in our new TravelKid range. These products from the TravelKid range ensure safety and tidiness in the car and make journeys with children easier.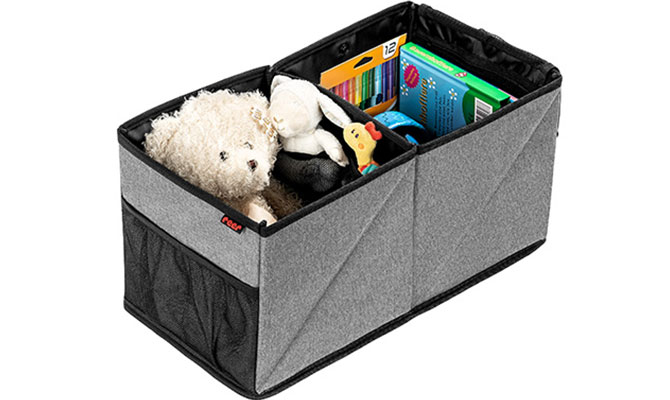 Practical organizer system
with lots of storage space
In the TravelKid Box, you can comfortably store games, books and lots more thanks to its clever inner layout. 2 large main compartments provide adequate space for books, food for the journey or cuddly toys. Smaller things can be stored in the differently sized net pockets. For example, pens can be safely stored here to stop them from rolling around in the box. The net pockets also serve as drink holders, so that bottles and drink cartons stay upright and do not fall out into the box.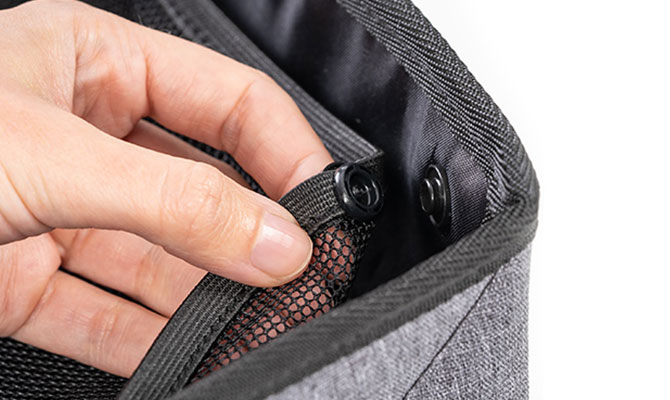 Especially secure
thanks to its net cover
The storage box is closed using a net cover. The practical press stud fastenings enable you to quickly access the things stored in the box and to close it back up again just as quickly. This means that your child's play things are safely stored and do not all fly through the car if you have to break suddenly.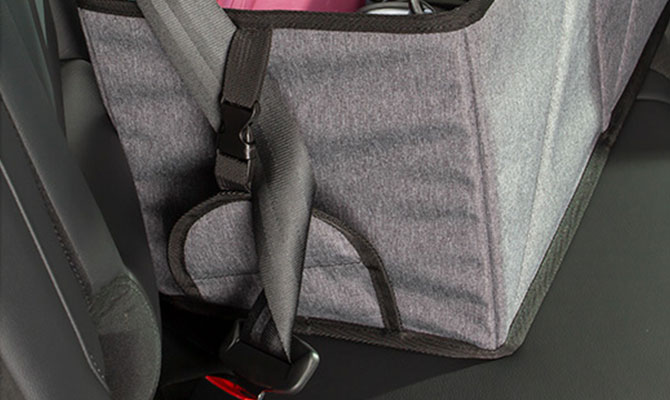 Safe grip
thanks to its anti-slip features and buckles
The bottom of the box is made from a special anti-slip material. This ensures an especially firm grip during the journey, no matter how you attach the box to your car. The multi-purpose box can be attached to your car in 2 different ways. The first option is to attach it using its anti-slip flap. This slides easily between the seat and the backrest, thereby preventing the box from slipping. The other attachment option is using the buckle. This is attached to the closed belt system, thereby guaranteeing a safe grip.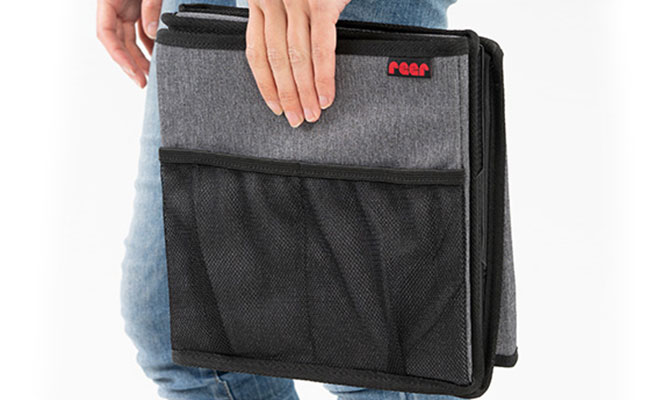 Simple storage
easy to fold when not in use
After the car journey, the whole box, including its contents, can be removed from the car. Once all the things are removed, the empty storage box can be easily folded together and stored away, thereby saving space.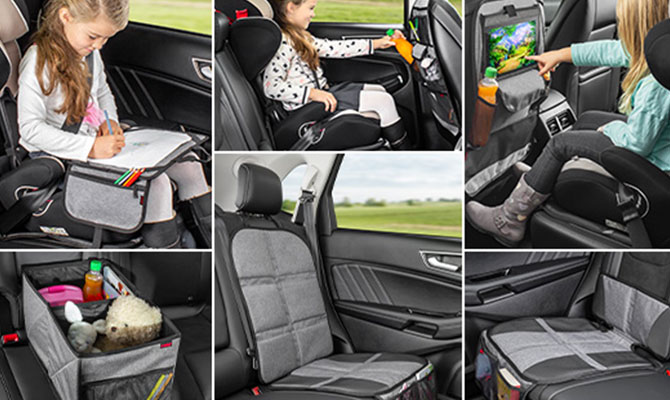 TravelKid
Tidiness, safety and entertainment in the car
The new TravelKid range from reer includes various car accessories. The purpose of all the products is to make car journeys as pleasant as possible for your child and to protect your car against damage and dirt. In addition to back seat organizers, the range also includes protective pads, an organizer box and a drawing pad.
reer has placed great importance on quality and high-grade machining in their selection of materials. All products in the TravelKid range are produced from a water- and dirt-repellent material that is easy to clean.
Product details
practical for storing games, books, drinks, etc.
anti-slip bottom for a better grip
especially secure thanks to its cover and extra belt system for attaching it to the seat
suitable for all common car seats
easy to clean thanks to it water- and dirt-repellent material
easy to store - simply folds away when not in use
dimensions: ca. 24 x 46 x 24 cm
ideal for use with the TravelKid range: the TravelKid Entertain back seat organizer with a tablet pocket or the TravelKid MaxiProtect protective car seat pad for protecting your seat upholstery from dirt and indentations
There aren't any asked questions yet.