BabyView automobile safety mirror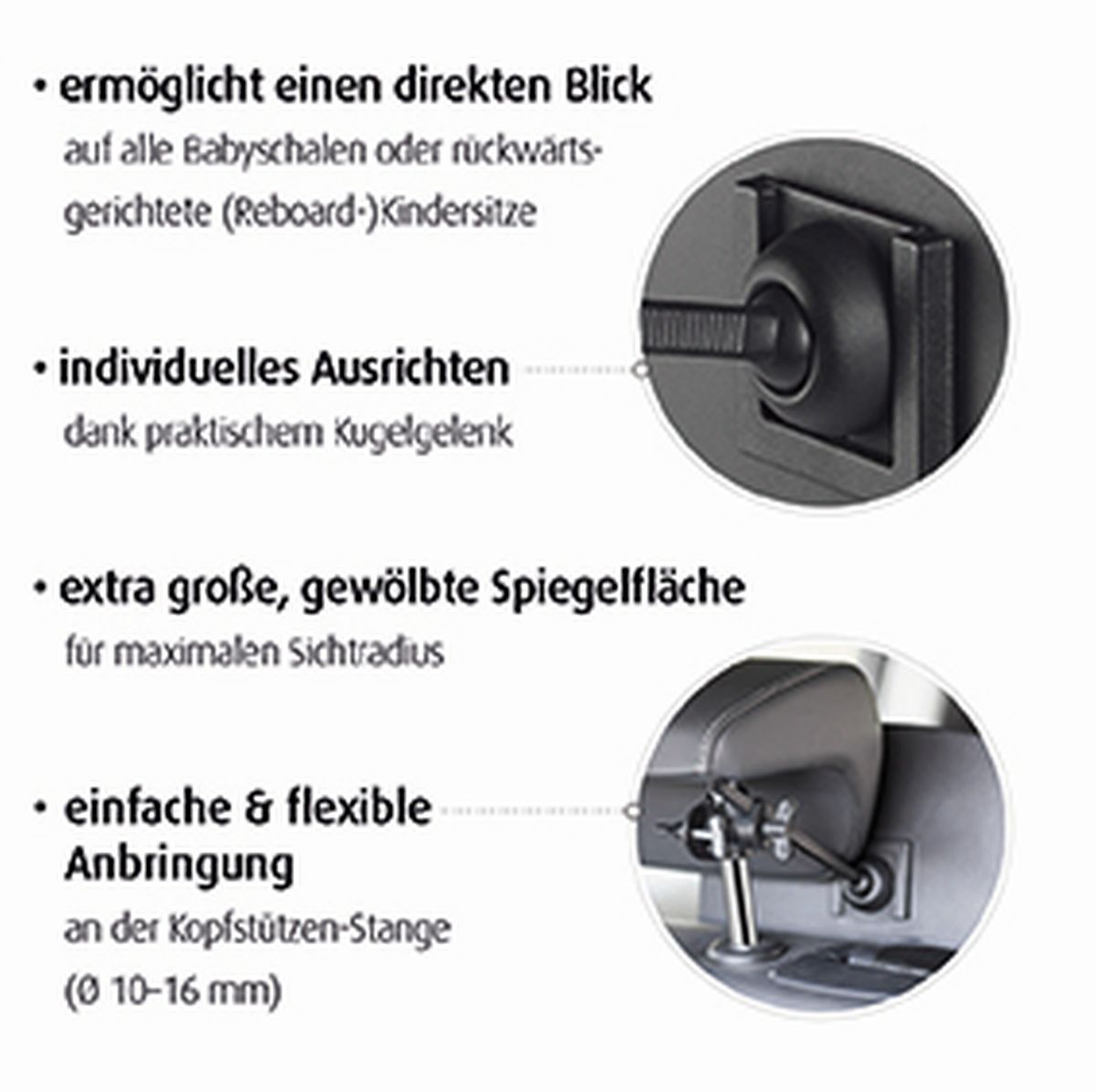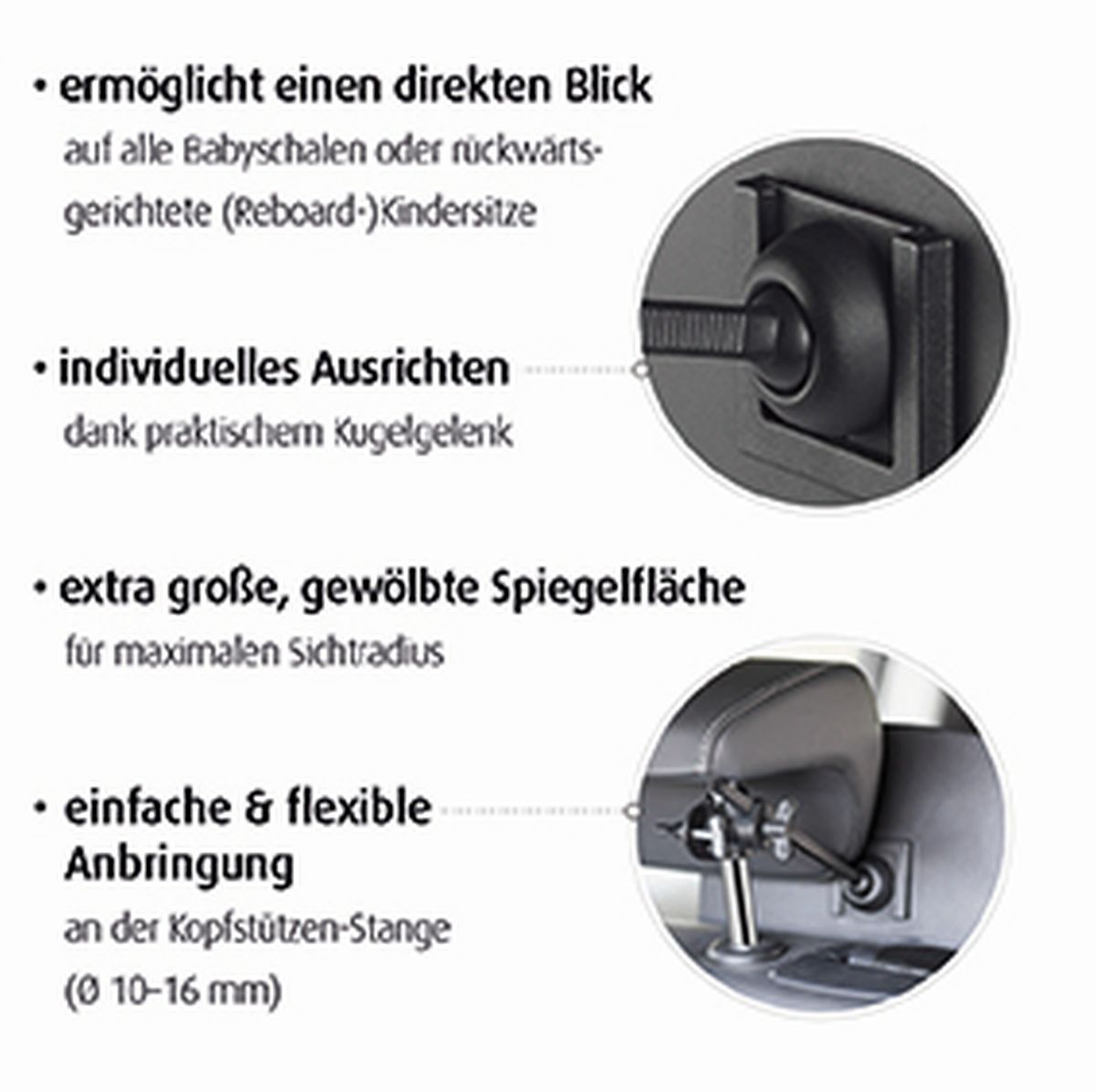 Available, delivery time 1-3 days
allows a direct view of your children
for all infant carriers or rear-facing (reboard) baby seats
fast and easy attachment at the headrest
safe and firm hold without slipping
with ball joint for flexible and personalised adjustment

BabyView
Car safety mirror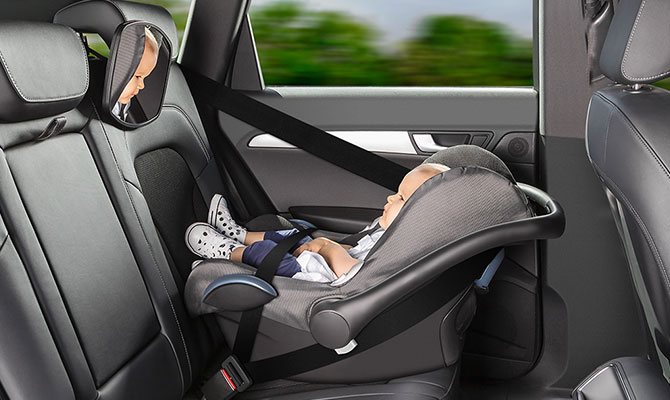 The little ones always in view - for a relaxed car journey
When parents are travelling with their children in the car, things can get turbulent and confusing. Whether the little passengers are hungry, thirsty or bored, the toy has fallen out of their hand or their darling can't get to sleep: the child's well-being comes first and road traffic can quickly take a back seat. It becomes particularly dangerous when the driver turns to look at the child while driving. Just one second of distraction or divided attention can have serious consequences. With a car safety mirror from reer, you always have your baby safely in view without losing sight of the road traffic.
Direct view of your offspring
in baby carriers or rear-facing child seats
As soon as the little ones take their place in the baby car seat or in rear-facing (reboard) child seats, the position on the back seat is difficult for the driver to see. The BabyView safety mirror with its extra-large and curved mirror surface provides maximum visibility radius to your child.
Flexible and individually adjustable
thanks to the ball joint
With the help of the practical ball joint, you can adjust the car safety mirror flexibly and individually to the respective circumstances and safety conditions. This means you always have an unobstructed view of your child. You won't miss even the smallest movement on the back seat and can concentrate on the road traffic without worrying.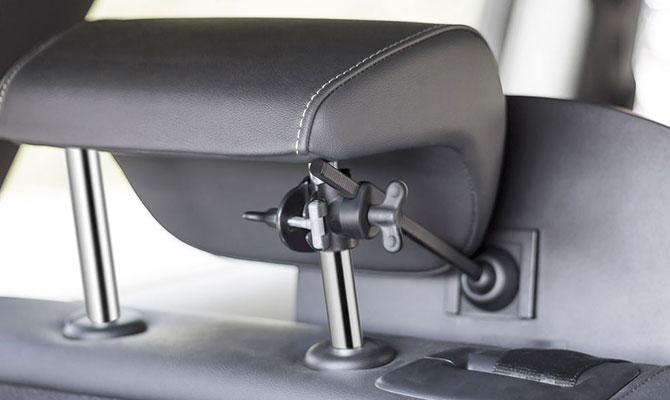 Simple and flexible attachment
to the headrest
The BabyView can be easily and flexibly attached to headrest rods with a diameter of 10 - 16 mm. The mirror has a shatterproof plastic mirror surface and therefore cannot break into dangerous shards in the event of an accident. This means that your little passenger is protected in the best possible way at all times.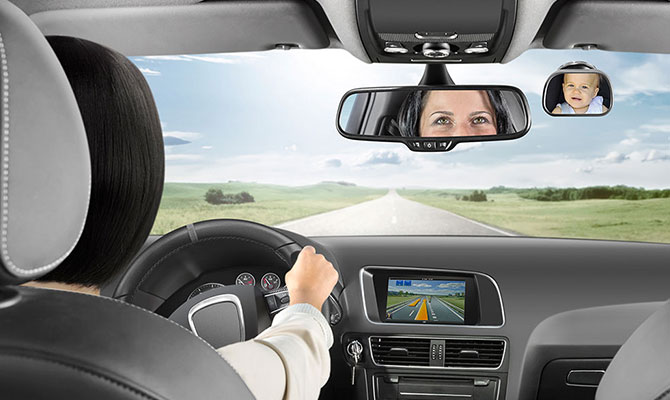 Even safer in combination with the ParentsView
In combination with the additionally available ParentsView car safety mirror, you can do without adjusting your own rear-view mirror, as it can be mounted directly next to your existing rear-view mirror. This means you can watch the traffic behind you as usual and still keep a watchful eye on your child.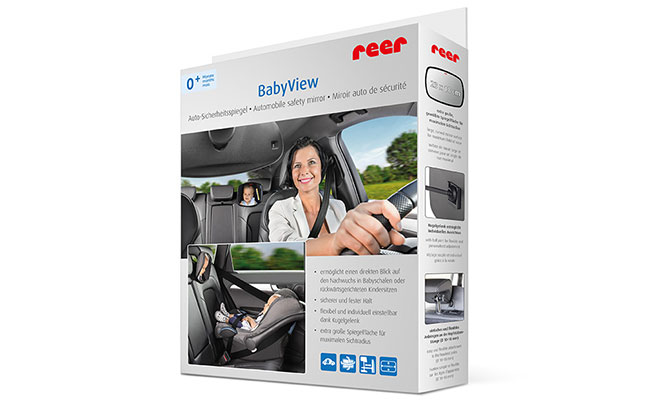 Product details
large, curved mirror surface for maximum field of view and direct view of your children
for all infant carriers or rear-facing (reboard) baby seats
fast and easy attachment at the headrest
safe and firm hold without slipping
with ball joint for flexible and personalised adjustment
There aren't any asked questions yet.